It's not turning 40 that's traumatic – I certainly felt as young as ever. It's just a number. But by the time my birthday rolled around, I was starting to see the signs of aging on my face. I noticed that time had taken its toll on my teeth. They had started to discolor and shift, and I wasn't happy about it. I heard about porcelain veneers, which were new at the time. I knew that a beautiful smile would boost my confidence in my career and in my social life. I decided to take a bold step and go for this new procedure. Today, when I look in the mirror, I see a smile that's been getting compliments for nearly a quarter of a century.
That's right, the very same veneers that gave me a midlife makeover are still so great that people stop me to tell me what a great smile I have! It's the only cosmetic procedure that I have ever had done in my life, but I am still glad I did it. And I hope to get at least another ten years out of these veneers – which makes me smile even wider.
---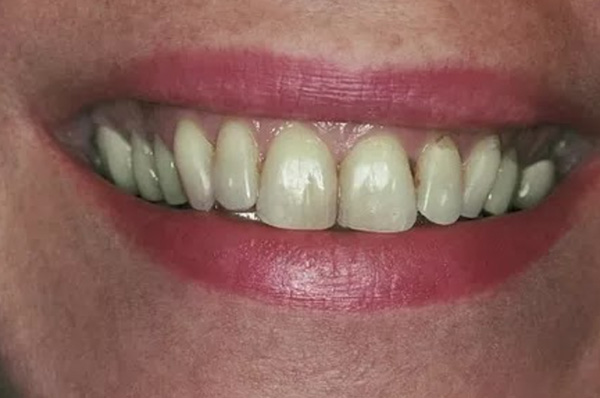 Before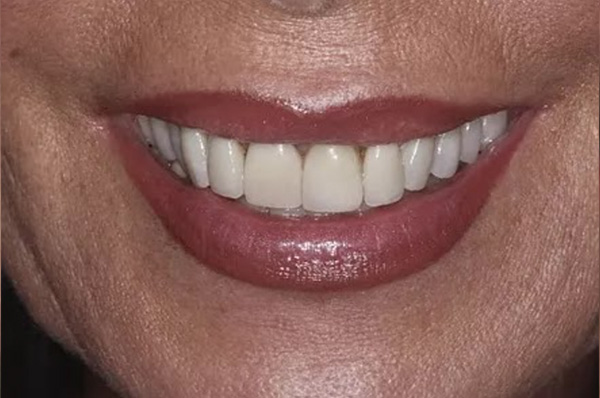 after
---
---
WHAT DOCTORS SAY
"FOR MANY PEOPLE, TURNING FORTY IS NOT EASY"
For many people, turning 40 is not easy. Crow's feet and sagging skin are not the only reminders that time is passing. Like many of our patients, Monica felt much younger than she looked. But she wasn't happy with the way her teeth had discolored and shifted through the years. They were a telltale giveaway of her age. Fortunately for Monica, she hit midlife in the late 1980s. Porcelain veneers were revolutionizing the cosmetic dental world, and we were among the first to offer this option for a dramatic transformation. Working with skilled ceramacists, we crafted upper and lower porcelain veneers for Monica's visible teeth. The result: a more youthful, perfect smile. Nearly a quarter of a century later, the very same veneers still look great! With proper care and a little luck, those veneers could last another decade or more. More importantly, her ageless smile made her feel it was better than a facelift. We love seeing her smile. It reminds us that we've been doing this work longer than most dentists, and if you don't mind our saying so, it shows.