Yeah, yeah. I know it's a little funky looking. But hey, it's me. Always been me. Never gave it a second thought. I've got a great wife and she fell in love with me that way, so something must be working. But when she told me she thought I should look into getting braces to "fix" my teeth, I was kind of surprised. On some level, I did know that my mouth was sort of upside down.
The top teeth closed behind the lower teeth. And I knew that was the reverse of what it was supposed to be, but my dentist told me a long time ago I would have to break my jaw and re-set it to correct it. No way was I doing that. My wife heard of Lowenberg, Lituchy & Kantor and made an appointment for me to "just find out if there were other options besides surgery". And guess what? There were! Hey, check it out now. I'm like every other guy. Well, maybe a little better.
---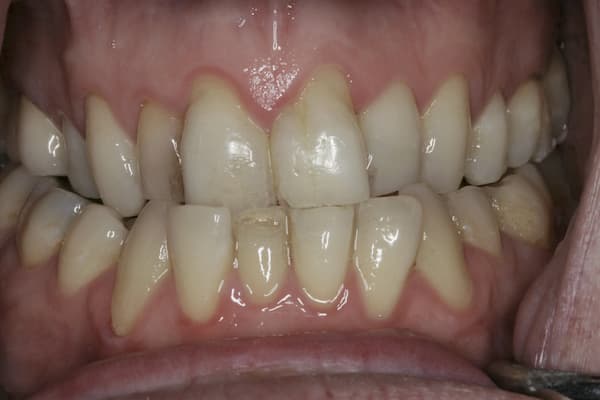 Before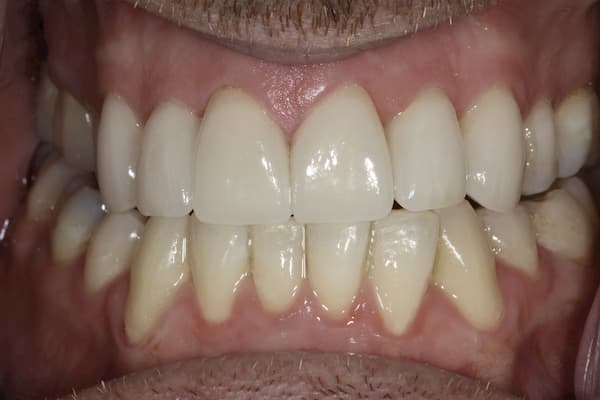 after
---
---
WHAT DOCTORS SAY
"A STRONG JAW CAN BE VERY APPEALING ON A MAN, BUT OFTEN CAUSES THE UPPER TEETH TO BECOME ANGLED AND CROOKED."
A strong jaw can be very appealing on a man, but often, as a result, the lower teeth extend further forward than the upper teeth. This causes the upper teeth to become angled and crooked, which is known in dentistry as a cross bite. While a cross bite has never hindered anyone from eating food, it does prevent a guy from having a great smile because his two upper teeth are not able to be in a prominent position. Sometimes only one or two teeth are in cross bite, and when that occurs, it is possible to correct the cross bite simply with porcelain veneers. As a child, Mike never wore braces; because of this and his jaw structure, almost all of his upper teeth sat behind his lower teeth in a cross bite. This issue could be corrected with surgery or full banded braces, but we were able to give Mike a quick "fix" that did not require surgery or years of braces. Instead, he wore Invisalign trays – a removable brace system – for only 6 months to move the upper teeth into a better position. After that, we placed 6 porcelain veneers on his top front teeth to create a strong masculine smile.